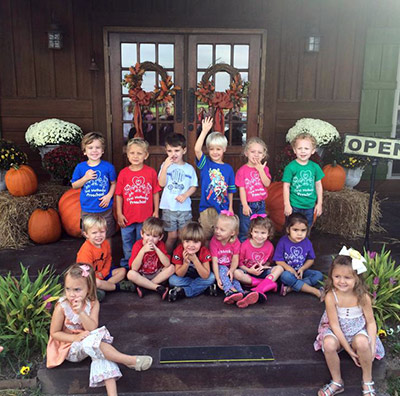 Strawberry Patch Field Trips (Spring)
Students ranging from ages 3-10 from surrounding schools, daycares, special needs groups and church groups can come and experience life on the farm during the Spring. Educational demonstrations and tours are catered to age specific groups. Students are educated on how strawberries are grown and cared for and the important role honey bees play in pollination. Each student will pick one pound of strawberries, take a farm tour and enjoy a cup of fresh strawberry ice cream. Call to schedule a time or ask about other activities that can be provided during the field trips. Field trips meet Georgia Performance Standards. ($6 per child) 229-386-5111
Click HERE to view our Strawberry Field Trip Flyer!
Pumpkin Patch Field Trips (Fall)
Students ranging from ages 3-10 from surrounding schools, daycares, special needs groups and church groups can come and experience life on the farm during the Fall. Educational demonstrations and tours are catered to age specific groups. Tours include a visit to the pumpkin patch, petting zoo, hayrides and ticket to the corn maze. Each student will also receive a cup of homemade ice cream. Call to schedule a time or ask about other activities that can be provided during the field trips. ($6 per child) 229-386-5111
Click HERE to view our Pumpkin Patch Field Trip Flyer!
PRIVATE FARM TOURS
Scheduled upon request, based on availability. Call The Market to learn more about Farm Tours. 229-386-5111
Book a Field Trip